Leave your burnout behind. Get your life back.
The Key?
Stepping out of overwhelm and stress into control and freedom.
Stressed?
Unproductive?
Burned out?
Always late?
The average person gets 1 interruption every 8 minutes or approximately 50–60 interruptions per day.
Before you fall down the rabbit hole into despair, get your life back!
Time Management helps you prioritize your tasks to ensure you have enough time to comfortably complete every project.  Being able to manage your time increases your focus and improves your productivity. Greater focus allows you to capture opportunities and spend time on the goals, projects and people that matter most.
Imagine how you would feel if you could:
improve performance
produce better work
achieve goals faster
reduce stress
prevent procrastination
prioritize tasks easily
get more done in less time
boost confidence
improve efficiency
deliver work on time
eliminate distractions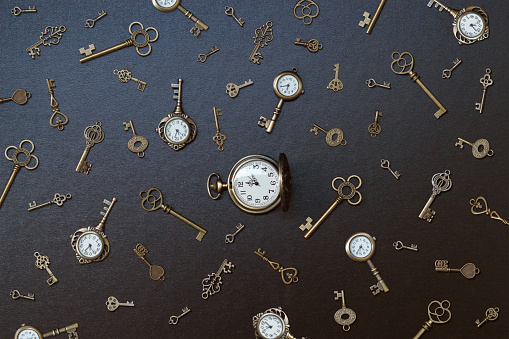 We teach you how in –
In 5 weeks with tricks, tips, and tools for time management 
Group exercises
A community to learn and exchange ideas with
Meetings with skilled experts help you find the best approaches for your unique situation
Pick up the key to your life!
Staci Paley
is a visionary in the world of work, applying teams, technologies, and techniques in innovative ways to create genuine business transformation.
Built on her experience of international best practices working with C-level executives in Fortune 500 companies, such as Berkshire Hathaway Energy, Nike, and Xerox as well as the flexible, fast-moving worlds of digital agencies, she is skilled in many approaches to scale growth and currently advises many small and medium-sized businesses.
Beyond her personal achievements in strategy, leadership, and data privacy, Staci's particular gift is forming dynamic, high-functioning teams who help companies navigate ever-changing, confusing landscapes with the most direct path to accelerate success.
She founded Got Your Back Solutions in 2020 as a full-service business consulting and implementation firm to help companies prosper efficiently and effectively.
Her key philosophies:

The broader you think, the better you solve
Take bold action while understanding risks
Apply best-fit solutions that get the job done
Value the "us" in business
Sherry Capet
is a Business Professional with over 18 years' experience in people development, strategy, time management, building relationships and businesses working with corporate executives, teams and entrepreneurs. She develops strategic solutions to achieve goals more quickly and detects more efficient ways of growing company assets by:

Implementing new processes and procedures to maximize efficiency
Increasing productivity
Implementing strategies and techniques while thinking outside the box
Developing people with both a corporate structure and the option to include an entrepreneurial flow
Teaching and implementing time management techniques that 100% work for every type of person
She has vast knowledge over a variety of industries and has consulted with White House Officials, Film & Music Entertainment Executives, Major League Athletes, Medical Professionals, IT Executives, Corporations and Media & Entertainment Litigators.
Sherry has collaborated with some of the most significant corporate executives including 14 of the Fortune 100 and nine of the Fortune 500.
You Are in Control
Build your own system
Adapt your workflow
End your day with goals met
Get comfortable saying no
Set boundaries productively
Complete the most important things each day
Find your better path forward and commit to a balanced life.
What if I don't do the exercises?
There will be a community to support you, accountability partners, and time in each class to answer questions.
For VIP pricing, you can get a direct link to the instructors.
What is your cancellation policy?
Final sale – No cancellation policy.
If a life event occurs, we will honor the missed session in the next cohort.
How does this course compare to other time management courses?
It is taught by active entrepreneurs who have trained fortune 100 teams on time management principles. Tactics and strategies are continually improved.
Offers customized, flexible solutions from a wide range of proven methods.
Effective as long as it is implemented and continually practiced. Because the tips, tricks, and tools are versatile, they can be applied to any person and any situation.
Involves problem-solving role play for real world situations.
Can my enrollment be moved to another class in the future?
Only in extenuating circumstances.
How much time are we given to complete the exercises?
A week.
How much time will I invest weekly during this course?
As much or as little as you want and based on that, results will vary. The course incorporates the work into the flow of the regular day. Plan on 30 minutes per day for review.
Are there special supplies I need for this course?
No.
Location
Portland, OR USA
Please submit the form below
We handle your personal information with the highest regard. Please see Got Your Back Solutions' privacy policy for details.